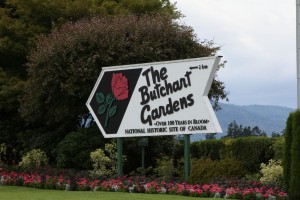 Our family cruise stopped in Victoria, BC and I've been dreaming of returning ever sense. While most of the disembarking cruisers headed to the restaurants, bars and shops, our family hired a driver to take us to Butchart Gardens. With one million visitors touring every year, you know there is something here to see. Plan on spending as much of the day here as possible and prepare to walk hills, steps and rough terrain. It is totally worth it to see the various sections including the Sunken Garden, Concert Lawn Walk, Rose Garden, Japanese Garden, Italian Garden and Mediterranean Garden. For more information, check out their Facts.
The backstory of how this came to be is interesting. Robert & Jennie Butchart owned a cement company in Portland and acquired land in Vancover for the rich limestone. Over the years, they mined vast acres until the limestone quarry was exhausted. The Butchart's hired a Yokohama garden designer named Isaburo Kishida to revitalize the area — he did an unbelievable job and the accolades still continue:
Condé Nast Traveler carried a story "The World's Most Beautiful Botanical Gardens" in which The Butchart Gardens was included as one of "14 stunning botanical gardens around the world." – March, 2013
CNN Travel carried the story "What a Wonderful World – 12 fabulous gardens" which included The Butchart Gardens. – February, 2013
TripAdvisor awarded us a 2011 TripAdvisor Certificate of Excellence.
Frommer's ranks us as one of only two 3-Star attractions in Victoria.
Here are some pictures of our family and the grounds at Butchart Gardens:

Note: If you're in Seattle and have an extra day, take the three-hour ferry over to Victoria.