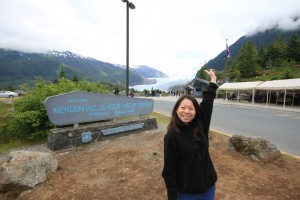 A big thanks to Ba Ngoai and Ong Ngoai for taking the family on this Alaskan Cruise. Over the last few years, we've had the pleasure of traveling with our extended family included Ba Ngoai, Ong Ngoai, Co Noi, Co Hong, Aunt Mary, Aunt Tam, Jenny, the girls and yours truly.
We arrived in Seattle in time to enjoy a day/night in the city before boarding the Norwegian Jewel on July 14th for a seven night cruise. It was an amazing cruise and the only way to really see such beautiful sites through Alaska. We stopped in ports at Ketchikan, Skagway and Victoria, BC, Canada. Along the way, we traversed fjords, saw plenty of iceburgs, eagles, seaplanes and glaciers.
You might also check out the related posts including Cruising Lessons Learned, Alaskan Wilderness Pictures and Touring Butchart Gardens. Below you'll find pictures of our group from the ship and our ports of call.