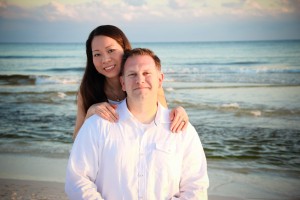 2804 days ago I met the love of my life at a sushi restaurant in Houston. We talked all night long about life, travels, adventure, work and there wasn't a single lull in the conversation. Somehow, I convinced her to see me again, and again, and again…
Within six months, we were engaged and then married 612 days from that first date. Life has never been the same and adventures are still going strong. Today, we celebrate our six year anniversary! Jenny has given me our two beautiful daughters, a great life surrounded by family, a best friend who makes me better, laughter, love and so much more.
So, here's a little recap our our last almost eight years. I love you sweetheart!

A message from our two beautiful daughters:

Note: I heard this song awhile back and immediately knew I had to build a compilation of our history together. Here are the lyrics: