Merry Christmas!
We hope everyone had an eventful, relaxing and fun holiday. From our house, 2013 has been a great year and we have much for which to be thankful.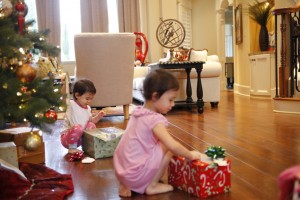 The girls woke up at the usual time on Christmas and were ready to go open presents. Our house is usually filled with guests on holidays, but our out-of-towners are coming this weekend. So, Jenny, Kate, Sophie and I had a relaxing morning opening gifts and hanging out. The girls had a great time and received lots of great gifts. Thanks to everyone to who sent/brought gifts.
This year, the girls found themselves with an entirely new kitchen set from Pottery Barn, pots and pans, hundreds of pieces of toy food, place setting and so much more. They've been planning non-stop with their toys. I'm pretty confident Jenny and I will soon be invited to a Kate & Sophie tea and food party. Speaking of parties, we're about to have 20 friends and family over for turkey, steak and lobster. Sound good? RSVP for next year's feast.
Here are just a few pictures of Christmas at our house: [Read more…]