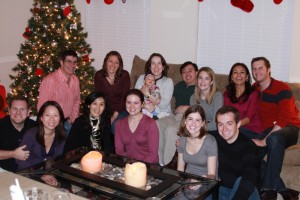 We have a tremendous amount to be thankful for this Thanksgiving season: a precious daughter, a loving family, health, fantastic friends, challenging jobs and so much more… With so much to be thankful for, we've hosted a few parties for which the pilgrims would have been proud!
Jenny, Kate and I hosted two big Thanksgiving dinners this year and it is safe to say, we're tired of Turkey & the "fixins." However, we've had a blast entertaining and hope our friends and family have enjoyed the feast. To put it into perspective, here's what we cooked for the forty plus (40+) people who attended one of our two Thanksgiving parties (one for our MD Anderson friends and the others for family):
Two Cajun-flavored turkeys and one smoked turkey tipping the scales at over forty pounds
Three beef briskets weighing approximately thirty pounds
Two honey-baked hams totaling twenty five pounds
Roasted potatoes and baked sweet potatoes
Loads of corn and green beans
Jenny's famous stuffing (its the best you'll ever eat)
My spicy cranberry relish (jalapenos, mint, citrus) and the obligatory cranberry sauce (w/ my secret ingredients of Amaretto and fresh oranges)
Multiple pumpkin pies, cheesecakes and ice cream
Countless bottles of Pinot Noir and Sauvignon Blanc
…and loads more!
Here are few pics from our smaller get together…