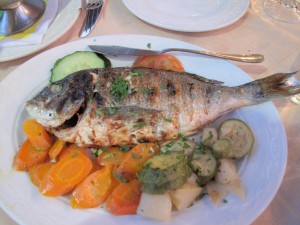 To say we ate well is an understatement. Throughout our trip, we ate fresh fish, tried new exotic foods, and sampled different interpretations of classic dishes.
All food is expensive in Greece. The Euro has distorted prices in Greece and created export demand for many of Greece's staple products like fish, meat, even produce. Fresh fish is typically sold at 30-60E/kilo in Athens and the islands. Convert that to US Dollars and we pay dramatically less for much higher quality fish.
Greek food is classic and usually made with just olive oil, lemon, salt and pepper. The typical kitchen may also include oregano, mint, saffron, allspice, parsley, and a few others…
Here are our more memorable dishes: olives, fresh baked bread, salad, oven roasted potatoes, mullet, lamb shank, sautéed/fried/grilled calamari, mussels steamed and saganaki-style, grilled octopus, gyros with beef, chicken, pork and lamb, fava beans with tomato sauce, stuffed tomatoes and green peppers, tzatziki, grilled/boiled/ouzo & saffron-styled shrimp, clam, kasseri cheese, fried and grilled anchovies, beef/pork/lamb kebabs, mackerel, grilled/baked/boiled egg plant, cucumber and tomato salad, feta cheese, grilled silver snapper, and much more.
Below you will see snapshots of some of our meals.