Our Adventures Through Greece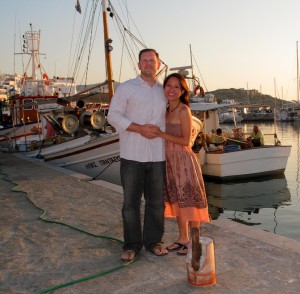 Here's a quick summary of our adventures through the mainland and islands. Jenny, Tom, Annie and I enjoyed fresh seafood, watched amazing sunsets, explored ancient ruins, jumped into the Aegean Sea, tore up the roads on ATVs, imbibed Greek wine and relaxed in the Mediterranean.
Here are our guides to Athens, Rhodes, Santorini, Paros and Aegina. Within you'll find pictures, a few recommended hotels, definite places to visit and more.
Athens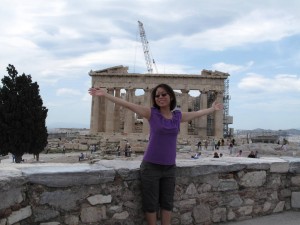 The capital of Greece and the launching point for any trip to the Greek Isles. Spend a couple days here to visit the monuments, archives and all the historically relevant sites. Then, quickly jump on a high-speed ferry or airplane and get to the islands. Note: There are 227 inhabited islands in Greece – tons of places to explore and relax. Here's our guide to Start in Athens, Day Trip to Aegina and Tasty, Fresh Greek Cuisine.
Rhodes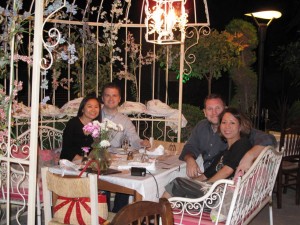 One of my favorite islands with loads of history from several major civilizations. One day, you can explore a real castle, play in Valley of the Butterflies (Peta Loudhes), swim in the crystal clear waters, visit the mosques, walk the Street of the Knights (Odos Ippoton) and head over to the Acropolis of Lindos (or their awesome beaches. Here's our guide to The Rhodes of Many Civilizations.
Santorini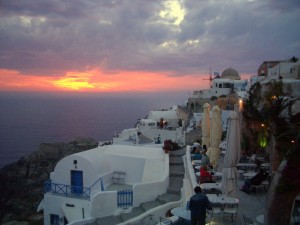 The most romantic place Jenny and I have ever been… Make sure to spend several days here. Visit the black and red beaches, check out the volcano, explore Prehistoric Thera and enjoy some of the best sunsets in the world. Here are our posts for Mama's House on Santorini, Another Santorini Sunset, Drinks with Boutari, Breath Taking Sunset @ Oia In Santorini, and Jenny's Gone Wild (on ATV). Note: We also recorded a A Message From Santorini to our Future Kids.
Paros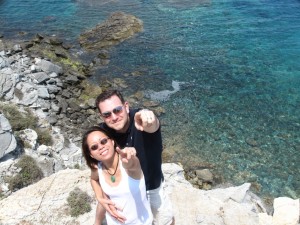 This is a fantastic place to relax. Not one of the well-known spots, but it has a beautiful coast. You'll find the city in Naousa to be quaint and peaceful — fishermen unload their boats daily and you can eat fish minutes from the water. Here are two posts aboutParos' Hotel Senia and Exploring Paros.