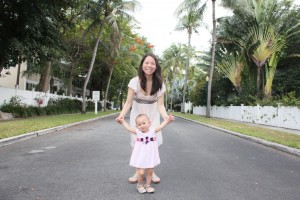 Today, we spent the day just wondering around the city in search of landmarks, kid-friendly activities and "gotta see" stuff. It was a really relaxing day despite the heat. However, we found plenty of indoor places to cool down and intermixed them throughout the day.
For our history lesson today, we visited Harry Truman's The Little White House. It was initially a naval station's command headquarters during the Spanish-American War, World War I and World War II. In 1946, President Harry S. Truman started using it as his winter home.
Next, we walked over to 907 Whitehead Street Ernest Hemingway's Home. We took the self-guided tour as a fun way to beat the heat and see unusual art, winding gardens, a pool that must have seen amazing parties, more cats than we could count and relics of Hemingway's life.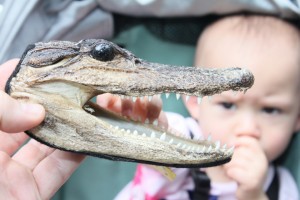 After cooling down, we walked over to Mallory Square to check out art galleries and tons of history. Mallory Square is also the best place to watch sunset. Also, the Memorial Sculpture Garden is a great place to learn about the history of Key West and the 36 men and women who helped build the city — they have their busts displayed here.
Duval Street is filled with lots of interesting bars, lounges, live music everywhere. This is an adult playground, don't bring your kids here at night! During the day, it's an fun place to visit. Duval Village is a quaint little out door market had the most unique souvenirs! You can buy a fedora hat here, a head of a little crocodile, belt buckets and numerous other interesting trinkets.
Here are some pictures from our day:

Here is a quick list of posts from our Key West Trip: