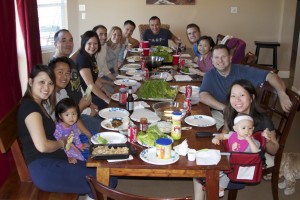 I've got the best wife… Every year for my birthday, Jenny plans a big gathering. This year, Jenny invited some of our closest friends to Lake Travis in Austin where we rented a large house for several days. We never left the house and used the time to catch up with each other. Everyone cooked their share of fantastic meals, we played board games for the first time since I was 16, found some new music (thanks Michael A.) and much more.
A big thanks to my wonderful wife for once again outdoing yourself. Also, thanks to Theresa, Mike & Amber; Michael & Henry; Lisa & Adrian, Annie & Tom; Michael & Melanie. Also, big thanks to Kate for being such a big girl and Max for your good behavior.
Here's a few pictures from our weekend.