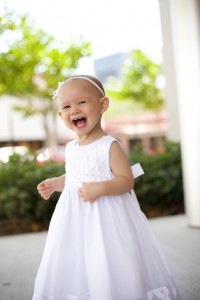 Today, our little Katherine Thuy Pozadzides was baptized at St. Michael's Catholic Church in Houston, TX. Uncle John (Godfather) and Aunt Mary (Godmother) came as witnesses along with many of our close friends and family. Father Ross (the same priest from our wedding) delivered a wonderful opening and blessing. Kate was fine with the ceremony up to the point where the Holy Water and sacred oil came out. She certainly didn't like getting wet and contributed to the baptismal font with plenty of her own tears.
Afterwards, friends and family headed back to our house. There was plenty of food to feed everyone including a full roasted pig and beautiful cakes to celebrate the event. Above all, we're blessed to have Kate, our family and friends in our lives.
A special thanks to Father Rossi and the St. Michael's church for bending the rules and allowing a private baptism. Here are a few pictures of the festivities.