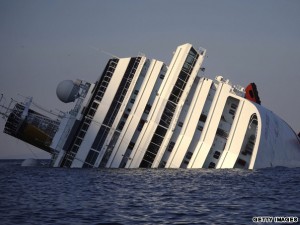 The list below is full of our issues. Since this was my first cruise, some of these may be simply reflect my unrealistic expectations. We have friends who cruise for every vacation. We'll inevitably do it again when the girls are older and after I've overhauled my expectations. However, I can definitely say the cruising isn't for everyone.
Here's a list of my Top 10 Lessons Learned:
Expect to be "nickel and dimed!" You might think food and drink is inclusive, but it isn't! Thirsty for a soda, juice or coffee, no problem –just grab your credit card. If you want food variety, there will be plenty of pay-extra options.
Just try calculating the total cost ahead of time! With taxes, port charges, automatic gratuities and all the other costs, you can easily spend more cruising than just flying to your destinations. Don't forget to budget for tipping your cabin steward, servers and others — Norwegian adds an automatic $12/day/person tip + 15% to any meal, drink or other purchase
Ports of Call are geared to sell tourists! From overpriced trinkets, jewelry, excursions and more, be prepared to overspend on anything outside the ship
Excursions are almost cost prohibitive. Make sure to budget, negotiate and pick the right ones for you. On our trip, the cruise line gave numerous sales pitches and they definitely try to over sale. Also, we found that the cruise lines colluded with local tour companies to make it almost impossible to get cheaper tours outside of booking
Forget about internet connectivity. It's there and you'll pay for it, but it is so slow that even checking email will annoy you. In an always-connected world is odd to be connectionless. I know cruising is all about relaxing, but some of us find connecting to the digital word stressfree"
The rooms are smaller than you think. If you are claustrophobic, cruising might not be for you. We had a big balcony, but Alaska cruises are obviously really cold and windy. Our strategy to get a bigger room with a balcony, didn't really pan out. Note: If you have more than one child in a crib, forget cruising. We called before our trip to confirm our room was big enough for two cribs — They made us upgrade for a massive amount of money. When we arrived, there was only one crib and it prohibited the other bed from folding out. Jenny and I slept apart for the entire week as we each prevented one kid from falling off a bed.
Their toilet paper is worse than a truck stop. There is no need to further explain…
The Buffets aren't like Vegas!I don't know why we thought they were, but don't expect high-end food, just large quantities of mediocre food. If you want crab-legs, go to Vegas!
Prepare to be seasick. Your degree will vary as mine was just a minor headache, but others in the family was much worse. It does take time to get your sea legs. Anyone telling you the ship is so big, you won't notice the movement is lying.
Make reservations the first day! We tried to get massages and eat at the nicer restaurants, but they were booked. Be prepared to eat at abnormal hours and realize you might not get the services you want.